Nikki's is your Prom, Homecoming, Pageant, Formalwear & Tuxedo
HEADQUARTERS.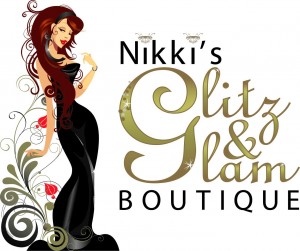 Nikki's Glitz and Glam has all the glitz and will make you glamorous from the latest Formalwear to trendiest fashions found in its Boutique lines of ladies clothing and accessories.
Nikki's is the newest, hottest and fastest growing Formalwear store in Tampa Bay area serving Tampa, St. Petersburg, Clearwater, Palm Harbor, New Port Richey, Wesley Chapel, Lakeland, New Tampa, Sarasota, Bradenton and all surrounding areas. Nikki's customers return over and over. Come and see why. We have been in business in since 2011 – selling only 100% AUTHENTIC DESIGNER DRESSES. The owners have 25 years experience in running a retail business in ladies fashions and formalwear. Nikki's Glitz & Glam Boutique's motto is "We make you Sparkle" from Formalwear to Specialty Boutique fashions. We pride ourselves in making every girl feel like a princess and every woman feel like a million bucks. We carry unique and stunning ladies fashions not found in department stores. Nikki's Glitz and Glam Boutique is a Top 10 Prom store which gives it the ability to get dress from a large network for Prom and Homecoming.
Please let us know you were here (on our site) by filling out our registration form (see tab above). If you join our mailing list you will receive information about upcoming events and sales. You will also receive special exclusive discount coupons that you can use for purchase in our store! Join Nikki's Loyalty Program, Text Club and email list to get great specials and offers. See Loyalty page.
Nikki's Glitz & Glam Boutique is a full service specialty store providing the best personal shopping experience in Tampa Bay. In our inviting and alluring Boutique we carry a wide array of the latest prom & homecoming collections from all of your Favorite Designers. Please make sure to come to the store to truly see first hand our customer service.
We also carry Pageant, Mother of the Bride and Groom and an extensive collection of special occasion apparel. See our Cocktail, Party and Evening apparel for a night out on the town. Nikki's Glitz and Glam Boutique prides itself on carrying a wide variety of style at various price points. At Nikki's we are proud to offer and extensive selection of sizes and styles. At Nikki's we buy for specific body types. Every customer wants to feel special and we will go out of our way to make it happen.